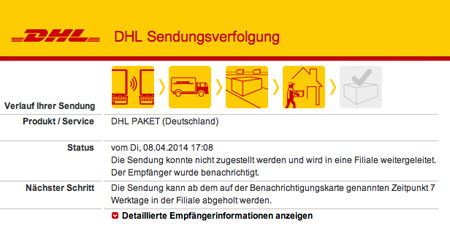 Mir ist klar, dass das Paket ziemlich groß und schwer ist. Und mir war klar, dass ich deshalb heute auf Teufel komm' raus zuhause sein würde, spätestens als die Zustellung für den heutigen Tag im Tracking angekündigt wurde. Nein, es ist nicht in Ordnung nicht mal zu klingeln und einfach eine der berühmten "Wir haben Sie nicht angetroffen"-Karten zu hinterlassen. Im Grunde genommen ist das eine ziemliche Unverschämtheit, das habe ich auch den DHL-Kundendienst wissen lassen und Ihr Vorgesetzter wird Sie hoffentlich entsprechend rüffeln. Wir sind hier nicht in der Hundekuchenfabrik, und Sie sind nicht Henry Chinaski:

"The hours at the dog biscuit factory were from 4:30 p.m. to 1 a.m. I was given a dirty white apron and heavy canvas gloves. The gloves were burned and had holes in them. I could see my fingers peeking through. I was given instructions by a toothless elf with a film over his left eye; the film was white- and-green with spidery blue lines.
He had been on the job nineteen years.
I advanced to my post. A whistle blew and the machinery leaped into action. Dog biscuits began to move. The dough was stamped into shape and then placed on heavy metal screens with iron edges.
I grabbed a screen, placed it in the oven behind me. I turned. There was the next screen. There was no way to slow them down. The only time they stopped was when something snagged the machinery. It didn't happen often. When it did, the elf got it going quickly.
The flames of the oven leaped fifteen feet high. The inside of the oven was like a ferris wheel. Each ledge held twelve screens. When the oven man (me) had filled a ledge he kicked a lever which turned the wheel one notch, bringing down the next empty ledge.
The screens were heavy. Lifting one screen could tire a man. If you thought about doing it for eight hours, lifting hundreds of screens, you'd never make it. Green biscuits, red biscuits, yellow biscuits, brown biscuits, purple biscuits, blue biscuits, vitamin biscuits, vegetable biscuits.
On such jobs men become tired. They experience a weariness beyond fatigue. They say mad, brilliant things. Out of my head, I cussed and talked and cracked jokes and sang. Hell boils with laughter. Even the Elf laughed at me.
I worked for several weeks. I came in drunk each night. It didn't matter; I had the job nobody wanted. After an hour at the oven I was sober. My hands were blistered and burned. Each day I sat aching in my room pricking my blisters with pins I first sterilized with matches.
One night I was drunker than usual. I refused to punch in. "This is it," I told them. The Elf was in trauma. "How will we make it, Chinaski?"
"Ah."
"Give us one more night!"
I got his head in the crook of my arm, squeezed; his ears turned pink. "Little bastard," I said. Then I let him go."

(Charles Bukowski, Factotum)
Note to self: Dann eben Flinkster. Musik: Fehlfarben, Zero 7, Nile, Fantômas.